Since I am not a mother yet I thought I would step away from the three topic design I've been using for this Total Truth challenge. Today I'm going to open my heart and freely share it on this topic. This has been something that I've wanted to write about for a while now but I didn't know if the time was right. I wrote most of this below almost four months ago and then saved it as a draft for a later time. When I saw that Kids/Parenting was one of the topics I knew that God was pushing me to finally dig this up and share it.
If I were completely honest I would tell you that I have been fighting some serious "baby fever" ever since Peter put that wedding band on my finger. One thing I've always wanted to be is a Mommy. Even when I was a little girl I would beg my cousins to play doctor with me so I could put a baby doll under my shirt, and when they would pull out the little girl or boy, I would instantly become a mom. I would hold the baby and rock it, feed it with a pretend bottle and wrap it up in a blanket. I absolutely loved it.
Now that we are in this new season of life and enjoying marriage, people often ask when we will be starting a family. That is such a tough question.
When is the right time?
Time is a funny thing. If someone would have told me two years ago that I would be married to Peter and writing about starting a family I probably would have passed out. Two years ago the Lord was preparing my heart and stirring Peter's heart. We were at a crossroads in our relationship and we were bravely crossing it together, with the Lord's guidance. He was connecting the pieces for both of us, so we could become one as husband and wife.
Now that we are in this oneness, I sometimes wonder what to do with it. He calls us to multiply and further His kingdom with our family. That is something that I feel in my heart is so right and I want to be worthy of that. At times I want to start down that path, sprinting full force and then like a light switch being turned off, I realize that I am so content and happy enjoying married life, with just the two of us. I also know that once baby comes along one day it will never be "just the two of us" again and that is something that I don't want to give up yet.
That confusion always points me toward prayer. I pray that we use this time wisely so we are prepared when that new season arrives. Not just flowing through this season but soaking it in. Learning from each other and listening for His commands. There are times when I sit in the silence and pray for our future babies. Pray for their health and for their hearts. I pray that we will have the strength and knowledge to lead them with a Godly love, full of grace. I pray that we point them toward Christ every day with our words and our actions.
Out of the many things I have learned about the way God works, His control is my most favorite thing. It makes me feel safe and loved. We can try and master our plans and design our future, but in the end it is all His. So for now I will be thankful. I will pray that I yearn for a closer relationship to my Maker every day. I will love my husband and pray that I will be a great helper for him, so that he can lead our family well. I will prepare my heart for the next season of life, whatever that may be, because I know that He is at the center of it no matter what.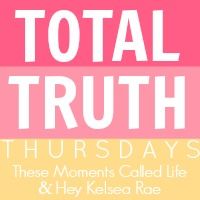 you can check out my other Total Truth Thursday posts below!