This is my sweet friend Madison.....
Madison is one of the fiercest people I have ever met. She overflows with the Lord's love and I am always amazed by the things she does, the words she says and the way she carries herself. She is a warrior for His Kingdom and she is doing some amazing work right now. On September 30th Madison left her comfortable life here in South Carolina so she could move to Mozambique Africa for almost three months. Here is what she has shared about her new home:
"It is an amazing place where people are equipped for international missions & ministry. Jesus is glorified above all else, & their main mission is to love people into an encounter with Him. The supernatural is a normal part of life there. They see the deaf hear, food multiply, the lame walk & more on a daily basis. The power of Father is at work in mighty ways there & I am so honored to be able to go be a part of what He is doing as I'm more equipped to move forward in His calling on me."
Gives me goose bumps every time I read it. I think what Madison is doing in Africa is astounding. During the time she is living in Africa and attending the Harvest School of Missions in Mozambique she has been blogging about her adventures there. I wait as patiently as possible to read them and when she posts a new update I'm left sitting in front of my computer crying tears of happiness because of the way she shares her heart so openly and freely.
I wanted to share this with all of you so you can follow along her journey also. You can help support Madison by lifting her and the team she is working with in prayer. There are also financial needs for Madison's trip and if you feel that The Lord is leading you to help her in this journey by giving then you can do so
HERE
. Make sure that you put her name (Madison Hopkins) in the "notes/comments" section.
Also feel free to catch up on her journey on
her blog
and stay tuned for all the exciting updates she has to share!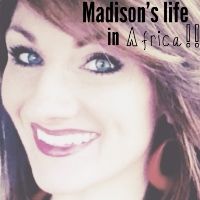 { Madison, I love you so much and I can't wait to see where this road is going to lead you next!! I am praying for you and waiting patiently for you to be home again so I can hear all of the amazing stories and hug your neck! }