Job is not the easiest book to read. Especially when you are sitting on a porch watching those you love play on the beach and then you turn the pages through a very unhappy story. It was hard last week while I was on vacation. There were days when I didn't turn those pages because I had no desire. Now that I am home in my routine I'm back to craving it. I have my NLT study bible and my ESV journaling bible so I'm good to go. But what does that say about my heart?
The book of Job teaches us to obey God and my heart was not obeying His calling to read His word everyday last week. There were days when I made excuses and I didn't make the time, but during all the pages in Job so far there is one verse that hits me like a ton of bricks every time....
I tend to always tie my scripture reading to songs of worship since that is the strongest way I connect with the Lord. If I am having a bad day, I sing a song of praise to the Lord. If I am worried or stressed, I listen to a song that puts God first so that I rely on Him. My days that begin with worship music while I get ready in my room are always better mornings. Music is a type of love language with God for me, so naturally this verse instantly makes me think of that amazing song by Shane & Shane.
Though You Slay Me
kills me every time, just like that verse that inspired the lyrics. Take a few minutes and enjoy this....
And the words by John Piper are so powerful and true. This is what I need to be thinking of when I want to skip a reading. Or when I think that Job isn't the most exciting book to read. It is His book and I want to yearn for it more everyday.
What is your heart yearning for?
Has the Lord revealed anything to you recently?
Link up with us and share what you have learned!!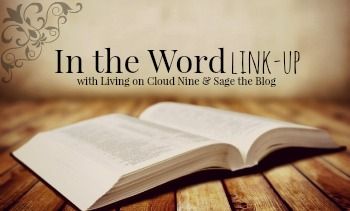 Also,
Cassie
and I will share the Chronological Study Plan for the month of September next week!